What Do We Do?
Above is a photographic representation of some of our product line. While a "Picture is worth a thousand words" it cannot show capability such as types of material available, intricacy of design or production capacity but our track record does.
Above are examples of our CNC machining capabilities, both mill and lathe. A nylon T.V yokeholder is being finished in the lathe and a damper motor internal part is on the mill. The bottom photo shows some of the more than 1500 punches and dies available for our notcher. If we don't have the one for your product, we'll make it. With our 'offline CAM programming system' we can machine punch and notch while programming the next job. This eliminates down time and speeds delivery to you.
How Do We Do It?
Modern technology is how!
For an example, data can be transferred from your print onto our computers and finished products can be produced within 30 minutes. Some of our punching, notching and forming equipment has a cycle rate of nearly 300 C.P.M. and can accommodate sheet sizes up to 40" x 80" and 10 gauge in thickness. Our CNC machines utilize 'offline programming'. This means we can machine and program at the same time to speed production and delivery. Again, all programs are retained and can be modified if desired.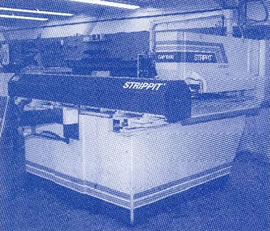 Prototyping models, of course, is the 'hands-on' part of our business. Computers are so much an integral part of our operation, as they are yours, but when it comes to plain old craftsmanship, we count on our highly skilled personnel. Their qualifications combined with computerization produces the highest quality results.